Online primary sources & Dr. Whipper's Texas reports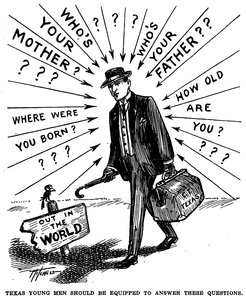 I'm happy to say that I've finally managed to start putting some of my research materials online, like I've been thinking about doing for a while.
Cliotropic research highlights some of the most interesting primary sources I use (that I'm able to publish online, anyway). Among them are old birth certificates from my personal collection and some promotional cartoons like the one on the right.
Teaching midwives in Texas, 1928
I'm most excited to present a folder of correspondence between Dr. Ionia Rollin Whipper and her supervisor at the US Children's Bureau, Dr. Blanche M. Haines, during 1927-1928. Dr. Whipper, an obstetrician who graduated from Howard University Medical School in 1903, was the bureau's sole professional employee of color. She worked in the South training African-American midwives to register the births they attended.
During 1928, Haines sent Whipper to Texas at the request of its board of health. Whipper sent back weekly reports to Washington. Sometimes she listed the midwives she talked to; other times, she just described the classes she taught or the troubles she faced as an educated, self-respecting woman of color trying to do her work. (You can read about Haines's offer to help Whipper get Pullman sleeping accommodations for some train travel, and Whipper's reply that "it is not safe to try it" because of Jim Crow segregation laws.) These are just a few of the letters by Dr. Whipper in the Children's Bureau Papers, too; hopefully I'll have time to put more up later.
Whipper wrote one of the first widely-reproduced modern training manuals for midwifery in the US. (The Children's Bureau redistributed her Syllabus of Instructions for Midwives, a mimeographed-and-stapled stack of about a dozen pages, to state boards of health all over the country because nothing similar was available elsewhere.) The sterile delivery techniques Whipper taught undoubtedly saved many mothers' and children's lives. Importantly for my research, Whipper's work ensured that children of color from the rural South had access to government-kept birth records later in life.
How it works
The site is powered by Omeka, the open-source collections-and-exhibits software produced by the Center for History and New Media. When I played with the first few releases of Omeka, which was probably a year ago, I wasn't overly impressed, but I'm very pleased with it as of the new release (1.3.1.) CHNM and the user community have put a lot of work into building plugins and themes, and it's developing into a fairly full-featured system.
In particular, the CsvImport plugin makes it possible to describe your collection to be uploaded using a spreadsheet, which you can then import to create a number of different items all at once. It makes all the difference in the world for the feasibility of putting a substantial research-in-progress collection online. (I'd really love to see someone extend this principle to make it work with a Google spreadsheet instead, for use by collaborative research groups.)
I'd welcome your comments on the site or on anything you find there. (Parts of it are still visually rough, because I'm still learning to customize the display by building my own theme.) I'm using the IntenseDebate Comments plugin for Omeka, which should allow you to comment on individual items over there, or you can comment here as usual.