Spatial history & the interdisciplinary job market: some experiences
Like most early-career scholars who blog under their real names, I don't write a lot publicly about my encounters with the job market. Even so, an experience I recently had has convinced me to break that silence.
Background
There's a lot going on these days with the use of mapping technologies in historical scholarship. As someone who started my dissertation early enough to not catch that wave, I know that I want to land at an institution that can support some mapping-related research while I work on my book manuscript. I've written before about the idea of mapping rural African-American midwives from my primary sources, which is one kind of exploratory project I'd like to pursue. I also have some correspondence I'd like to map, and I'd like to do some computer-assisted exploration of the historical social networks I study.
Usually when I talk to historians about my plans for digital projects, they're fairly receptive. As a result, when I'm applying to postdoctoral fellowships and faculty positions, I pitch my interests to search committees as intriguing future projects and/or book-manuscript-revision work.
A recent interview with an interdisciplinary committee taught me a few things about how these ideas come across to people from quantitative social sciences, and I think they're worth sharing and discussing as a larger community of digital-methods people in historically-oriented fields. And so, some Monday-morning quarterbacking:
Interviewer: "What's your hypothesis? What do you expect to find by using maps?"
This question, asked about my interest in mapping some of my sources, is one I didn't have a good answer for on-the-spot. At the time, I didn't understand well enough that social scientists who use GIS or other mapping technologies do so to confirm a hypothesis. The idea of using mapping as an exploratory tool didn't seem to be something intelligible to this faculty member, at least the way I was describing it. (I've since been told that people who do quantitative work usually diss such approaches as "fishing" for a theory in the data.) I think my interlocutor was assuming that "we" map data when "we" want to test a theory against the real world. From that perspective, I probably didn't sound like I knew what I was talking about, and I regret that.
What I wish I had said:
I'm interested in applying tools that have been historically used by social scientists in hard-positivist ways, but I'm not a social scientist. For one thing, humanities-style data has lots of gaps, and most of my methods training in (women's history/sexuality history/African-American history) is concerned in some way with how to interpret silences and gaps in the written record.
Humanities training is useful in capturing the texture and details of individual experiences, and I want to use mapping tools in an exploratory way to visualize things that I might see as trends. The kinds of analysis I'm interested in are more like how qualitative social scientists use interview-coding software to analyze their interviews with research subjects. It's possible that GIS isn't the tool I need and that Google Maps is a better option, but I want to be in an interdisciplinary community where I can meet people who do spatially-oriented work and learn from them.
(Edit: on the specific conjectures and questions I'm interested in exploring via mapping, see my response to a comment below.)
Interviewer: "But isn't that more about networks?"
This question appeared slightly later, when I talked about using the Children's Bureau correspondence collection as a data source for visualizing who was writing to whom, when, and how those patterns changed geographically over time. (I was thinking about some of the work that's been done by Mapping the Republic of Letters, covered by the NYT here and here, which I think has a lot of potential for mapping feminist social-reform networks in the early 20th century.)
What I wish I had said:
Yes, it is about networks, and I think that being in interdisciplinary contact with social scientists who understand social-network-research tools will help me find what I need, tools-wise. I may venture into structural analysis of social networks, but that's not my field of expertise, and I'm not using these tools as a way to prove a hypothesis or develop a new theory. I'd like to piggyback off existing tools as a way to visualize social networks over time, with analytical approaches that are qualitative and humanities-style.
If your institution has any researchers who work on algorithmic approaches to visualizing gappy data–probably in a computer science or library-and-information-studies department– I'm also interested in offering my data to them as an interesting set of real-world humanities materials. I'd love to help someone else figure out how to represent visually what I can't know about, even qualitatively, based on the primary sources available to me. I don't want to claim that my sources say more than they do, and I understand that some CS/LIS people are interested in these questions from their own disciplinary perspectives. (I learned a lot about this at MIT Hyperstudio's h-digital conference last year.)
What I learned about my work:
I've apparently internalized the ideas Johanna Drucker gave in her talk at MIT last year. She argues that humanities people who think about our sources/texts through data visualization don't need to try to be social scientists– and that we shouldn't try. We have our own interesting, rich analytical traditions, and creative use of digital tools can give us new ways to apply that training. Here's her analogy in a nutshell:
Anyone who's ever studied public health, post-1800 urban history, or the history of medicine knows about the English epidemiologist John Snow, who pioneered the practice of mapping cases of epidemic disease as a way to figure out disease vectors. His maps looked like this: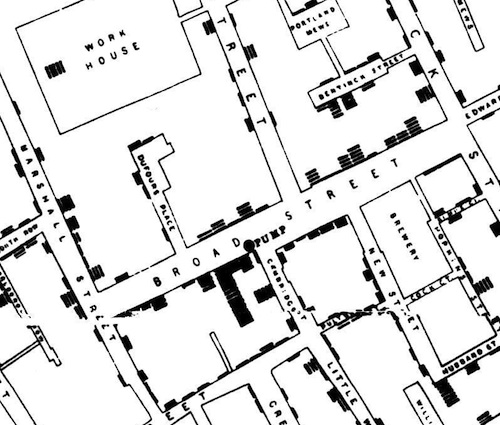 The black bars extending back from the street at each address were cholera cases. Using this style of mapping, Snow figured out that the Broad Street pump (near the center of this map) was giving out cholera-infested water.
That is an early form of social science, and it was a distant ancestor of GIS-enabled epidemiology. Drucker, on the other hand, has a sketch that she uses, wherein each point on one of those city-block maps is transformed into a three-dimensional representation of a person. I wish I had a good image of it. This is a conceptual idea for her, not an implemented system, but it's been fundamental to how I've started thinking about my future research.1
Distinguishing spatial history from other ways to use maps
For a spatially-oriented social historian, historical people aren't solely dots on a map. They're individuals living in families and neighborhoods and communities; doing certain kinds of labor; interacting with certain kinds of political systems, economies, and gender/race/class ideologies. They send letters. They write diaries. They scribble marginalia and family records in books, or maybe they don't own any books. They read newspapers and see plays. Enslaved people in 18th-century New York talk to one another on their way to the neighborhood water pump, so much that their masters suspect them of plotting a slave rebellion. They're born, grow up, get jobs, become disabled in industrial accidents, give birth, marry or cohabitate (or not), buy and sell sex, grow old, die. We read the documents and artifacts that they leave behind and try to reconstruct their world, and visualizations of that material are really good tools for thinking with.2
From a social-sciences viewpoint, the ways that some humanities scholars want to use mapping and social-networks ideas probably look about as methodologically rigorous as Florence Kelley and her colleagues' maps of Chicago's immigrant neighborhoods in the late 19th century. By modern standards of social-science method, their work seems relatively primitive, but historians still use the Hull House Maps and Papers whenever we want to understand late 19th century Chicago. That doesn't make us social scientists manqué(e). It makes us scholars who want good visual tools, from whatever disciplinary context, that can help us ask and answer our own interesting questions.
Where do we go from here?
Early-career scholars who do digital-methods work in history and related fields: Let's swap notes so that we're all more likely to get those jobs and fellowships. Your comments are welcome on any of the following questions, either below or as links to your own blog posts.
When you describe your digital work/interests in CVs and cover letters, what phrasings are committees responding positively to?
What misunderstandings have you seen from hiring/fellowship committees about digital-methods work?
In our future interviews, how do you think we can address those questions more effectively when they come up?
Of course, if you've served on the other side of the interview table recently, we'd really love to hear from you too. Given the topic, pseudonymity and/or obscuring of identifying details is to be expected.
Although I do understand that the NEH-funded Neatline project at the University of Virginia is building tools which look an awful lot like an implementation of Drucker's ideas. That's not a surprise, as Drucker was at UVA before she moved to UCLA, and UVA's Scholars' Lab has well-established institutional expertise in spatially-oriented digital projects. ↩
Yes, arguably this is the New Social History 2.0, or maybe it's Cliometrics 2.0. Unlike the 1960s-70s, it doesn't require roomfuls of punchcards and armies of mostly-male graduate students to come up with interesting conclusions. You do, however, have to know someone who's doing it to understand that it's possible. ↩