Feminist Legal History roundtable at Big Berks
Yesterday on Twitter, I wondered: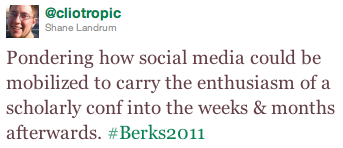 This post is an experiment in one way to keep the momentum of the Big Berks going: by fostering a more permanent record of what was said.
If you have thoughts for the Berks conference organizers on this or anything else about your experiences at the Big Berks last week, please leave a comment on the section of the website devoted to feedback. (You could comment even if you weren't able to attend but learned about the conference events via Twitter. As I mentioned yesterday, they're really looking to figure out what to do with their website and social media.)
And, with that, another Twitter recap post, this time from Saturday morning's Feminist Legal History roundtable.
Roundtable on "Feminist Legal History", June 11, 2011, 15th Berkshire Conference on the History of Women
Please note: This post is intended to preserve some of the key ideas from that session as I understood them. I have edited this transcript to remove factual errors made in the speed of the moment. As with most of Twitter, it prefers soundbite-style brevity to nuance. If I've misquoted or misrepresented what was said, please feel free to correct me in comments (or to expand on ideas you heard in the session.)