Welcome. Here are a few highlights from my current research on the history of birth certificates and birth registration in the United States. I'm adding new items here as I find materials that I think will interest a broader audience. For more on my work, see my main website.

Featured Item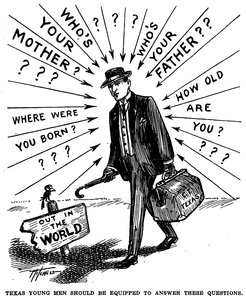 A young man, C.T. Texas, faces a number of questions "out in the world" about his identity. This illustration was part of a promotional campaign for birth registration.
Featured Collection
The United States Children's Bureau was the first US federal agency to focus on the health and well-being of children and their mothers. Founded in 1912, it played a major role in the development of the early US welfare state.

Many of the items reproduced here concern the work of Dr. Ionia Rollin Whipper (1872-1953), an African-American obstetrician who graduated from Howard University Medical School in 1903. During the 1920s, Dr. Whipper traveled throughout the South teaching midwives to register the births they attended.

Not all of the items here are fully described yet.
Recently Added Items
This birth certificate for the unnamed-at-birth child of Louis Ganzmann and Anna Bosinger Ganzmann of Buffalo, New York, was issued in 1919 for a birth that took place in 1903. Because this particular copy was issued around their son's 16th birthday, it seems likely that it was used for acquiring a work permit under the relatively new child labor laws.
The more…
...