Records of the United States Children's Bureau
Featured Item From This Collection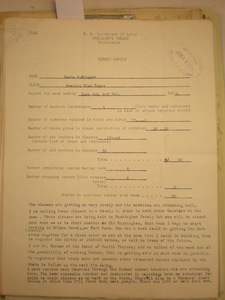 Weekly report for weeks ending June 2 and 9. Includes 2 page list of "Midwives in Washington County [Texas]", by name & town.
Description
The United States Children's Bureau was the first US federal agency to focus on the health and well-being of children and their mothers. Founded in 1912, it played a major role in the development of the early US welfare state.

Many of the items reproduced here concern the work of Dr. Ionia Rollin Whipper (1872-1953), an African-American obstetrician who graduated from Howard University Medical School in 1903. During the 1920s, Dr. Whipper traveled throughout the South teaching midwives to register the births they attended.

Not all of the items here are fully described yet.
View the items in Records of the United States Children's Bureau