Browse Items (47 total)
This birth certificate for the unnamed-at-birth child of Louis Ganzmann and Anna Bosinger Ganzmann of Buffalo, New York, was issued in 1919 for a birth that took place in 1903. Because this particular copy was issued around their son's 16th birthday, it seems likely that it was used for acquiring a work permit under the relatively new child labor laws.

The more interesting part of this document is its reverse side, which declares that it is an "Important Notice to Parents" and urges them to "carefully preserve this certificate by having it framed." The rest of the text gives a sense of how novel birth certificates may have been for some American parents in the 1910s.
During the 1910s and 1920s, these postcards were used by the Virginia Bureau of Vital Statistics to inform parents that their child's birth had been registered and to explain the importance of birth registration to their child's future.

This card is for the unnamed-at-birth white male child of Joseph Wine and Ellen Lee Wine, born at Flat Rock, Shenandoah County, Virginia on June 27, 1914. It's postmarked in late September, reflecting the relatively slow operation of the state's registration system.
C.T. Texas, a young man carrying a briefcase, faces a locked stockade-style gate to the "business world." The sign on the gate reads, "Notice!!! Applicants without birth certificates not considered."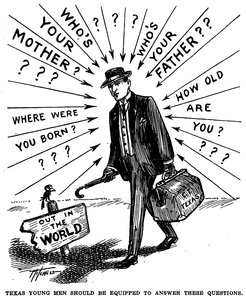 A young man, C.T. Texas, faces a number of questions "out in the world" about his identity. This illustration was part of a promotional campaign for birth registration.
Shows a pig and a baby side by side. The pig is labeled with a breed-registration number, captioned "registered." The baby is unlabeled, captioned "Not Registered." Below is the question, "Why?"

Agricultural comparisons were common ways that health departments emphasized the importance of birth registration to rural people during the early 20th century.
No description has been entered yet.
No description has been entered yet.
No description has been entered yet.
No description has been entered yet.