Browse Items (3 total)
C.T. Texas, a young man carrying a briefcase, faces a locked stockade-style gate to the "business world." The sign on the gate reads, "Notice!!! Applicants without birth certificates not considered."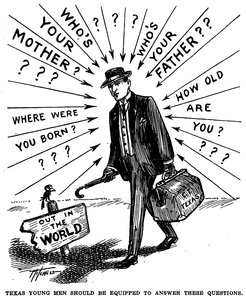 A young man, C.T. Texas, faces a number of questions "out in the world" about his identity. This illustration was part of a promotional campaign for birth registration.
Shows a pig and a baby side by side. The pig is labeled with a breed-registration number, captioned "registered." The baby is unlabeled, captioned "Not Registered." Below is the question, "Why?"

Agricultural comparisons were common ways that health departments emphasized the importance of birth registration to rural people during the early 20th century.